Missoula Construction Accident Attorneys
Representing Injured Workers & Their Families
Construction sites are some of the most dangerous workplaces in Montana. Construction workers face a wide range of risks and hazards on the job, from falls and falling objects to heavy machinery accidents and exposure to toxic substances. When construction accidents occur, workers and their families are left to deal with the consequences.
At Hoyt & Blewett PLLC, we understand the unique challenges faced by construction accident victims and their families. Our Montana construction accident lawyers are here to help you navigate the legal process and fight for the maximum compensation you are owed. We have a proven track record of success, having recovered millions of dollars for our clients, and we are prepared to put our experience to work for you.
Call (406) 233-1302 or contact us online to schedule a free consultation.
Common Types of Construction Accidents
A construction accident occurs during the construction, renovation, or maintenance of a building or infrastructure project. These accidents can result in injuries, fatalities, property damage, and financial losses. Construction accidents can happen for a variety of reasons, including human error, equipment failure, hazardous working conditions, or a combination of factors.
Common types of construction accidents include:
Falls: Falls are one of the most common types of construction accidents. They can occur from elevated work areas, such as scaffolds, ladders, roofs, or unfinished structures. Falls often result in serious injuries or fatalities.
Struck by Objects: This type of accident happens when a worker is hit by a falling object, equipment, or vehicle on the construction site. Examples include being struck by a construction tool, a vehicle, or materials.
Caught in or Between: These accidents occur when a worker is caught, pinched, or squeezed between objects or equipment. Examples include being caught between heavy machinery, walls, or equipment.
Electrical Accidents: Electric shock or electrocution can happen when workers come into contact with live wires, faulty electrical systems, or electrical equipment. These accidents can lead to severe injuries or even death.
Collapse Accidents: These accidents occur when a structure, trench, or excavation collapses, trapping workers beneath debris. This can lead to injuries or fatalities.
Machinery and Equipment Accidents: Construction sites use various heavy machinery and equipment, which can lead to accidents if not operated or maintained properly. Accidents involving cranes, bulldozers, forklifts, and other equipment can be especially dangerous.
Hazardous Material Exposure: Workers may be exposed to hazardous materials, chemicals, or substances while working on construction sites. Exposure to these materials can lead to acute or long-term health issues.
Fire and Explosions: Construction sites often involve welding, cutting, and other activities that can result in fires or explosions if safety precautions are not followed.
Slips and Trips: Workers can slip or trip on uneven surfaces, debris, or wet areas, leading to various injuries, including sprains, fractures, or head injuries.
Health-Related Issues: Long-term exposure to construction site conditions, such as dust, noise, and vibration, can lead to health problems, including hearing loss, respiratory issues, and musculoskeletal disorders.
Crane Accidents: Accidents involving cranes, such as tipping over or structural failure, can have serious consequences for workers and the surrounding area.
Trenching and Excavation Accidents: Workers in trenches or excavations are at risk of collapse, cave-ins, or being buried by soil or debris.
Who is Liable for a Construction Accident?
Liability in a construction accident can vary depending on the circumstances, the parties involved, and the specific legal jurisdiction. Construction accidents can lead to complex legal issues, and multiple parties may share liability or responsibility.
Here are some of the potential parties that can be held liable in a construction accident:
General Contractor: The general contractor responsible for managing and overseeing the construction project may bear liability for accidents that occur on the site. They have a duty to ensure safety measures are in place and that subcontractors comply with safety regulations.
Subcontractors: Subcontractors hired by the general contractor to perform specific tasks may be liable for accidents related to their work. They are responsible for adhering to safety standards within their scope of work.
Property Owner: In some cases, the property owner may be held liable, particularly if they are directly involved in managing the construction project or if they were aware of unsafe conditions and failed to address them.
Architects and Engineers: Design professionals who played a role in the project may be liable if their designs or specifications contributed to the accident. They have a duty to ensure that their plans are safe and meet building codes.
Manufacturers and Suppliers: If a construction accident is caused by a defective product or equipment, the manufacturer or supplier of the faulty item may be held liable for injuries or damages.
Safety Inspectors and Consultants: Individuals or companies responsible for conducting safety inspections and providing safety consultation services on the construction site may be held liable if their negligence or failure to identify hazards contributes to an accident.
Government Agencies: In some cases, government agencies responsible for enforcing safety regulations and standards can be liable if they failed to properly oversee or enforce safety measures on the construction site.
Employees and Workers: In certain situations, workers or employees on the construction site may bear some liability, especially if their actions or negligence contributed to the accident. However, they are typically covered by workers' compensation, which limits their personal liability in most cases.
Other Third Parties: Other parties, such as property management companies, equipment rental companies, or neighboring property owners, can also be held liable in specific circumstances.
Why Choose Us?
Hiring a Missoula construction accident lawyer from Hoyt & Blewett PLLC can provide several important benefits if you or a loved one has been involved in a construction accident.
Here are some of the advantages of choosing our firm:
Expertise and Experience: When you work with us, you benefit from our extensive experience in handling construction accident cases. We have a deep understanding of the laws and regulations specific to Montana and the construction industry, allowing us to navigate your case effectively.
Resourceful Investigation: We have the resources to conduct a thorough investigation into the circumstances surrounding the accident. This includes gathering evidence, interviewing witnesses, and consulting with experts to establish liability and build a strong case on your behalf.
Protection of Your Rights: Our construction accident lawyers will ensure that your rights are protected throughout the legal process. We will handle all communication with insurance companies, opposing parties, and other involved entities to shield you from potential tactics designed to minimize your compensation.
Negotiation Skills: We have skilled negotiators who will work diligently to secure a fair settlement for your injuries, damages, and losses. Our experience in negotiating with insurance companies and opposing counsel can help maximize your compensation.
Litigation Representation: In the event that negotiations do not lead to a satisfactory settlement, we are prepared to take your case to court. We have a strong track record of litigating construction accident cases, and we will vigorously advocate for your rights in the courtroom.
Knowledge of Workers' Compensation: We can assist you in understanding and navigating the workers' compensation system, ensuring that you receive the benefits you are entitled to if you were injured while working on a construction site.
Personalized Legal Strategy: Our approach is highly individualized. We will work closely with you to understand your unique circumstances and goals, tailoring our legal strategy to meet your specific needs.
Compassionate Support: Dealing with the aftermath of a construction accident can be emotionally challenging. We provide compassionate support to you and your family throughout the legal process, helping you focus on recovery while we handle the legal aspects of your case.
Peace of Mind: Having a dedicated construction accident attorney on your side can provide peace of mind, knowing that your case is in capable hands and that you have the best chance of receiving the compensation you deserve.
Contact us today at (406) 233-1302 to let our team fight for you.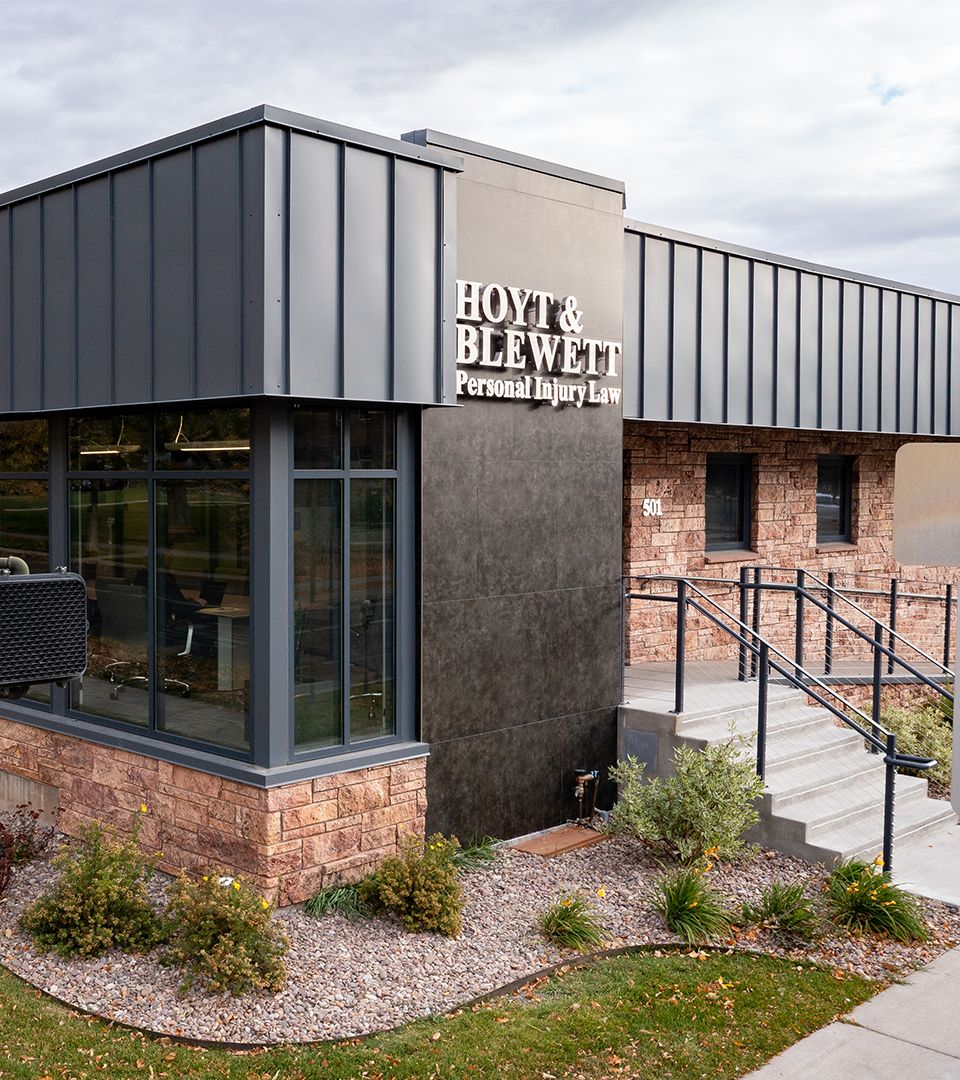 Experienced Legal Representation
Get Experience On Your Side
Our Dedicated Attorneys Are Ready to Help
Schedule your free and confidential consultation today.
Ready to Get Started?
Your Voice in the Courtroom
At Hoyt & Blewett PLLC in Montana, we understand the devastating impact of personal injuries and wrongful deaths on families. With over 100 years of combined experience, our dedicated team of Montana injury attorneys is here to provide compassionate and skilled legal representation. We offer a free consultation to discuss your case and understand your needs.
Hoyt & Blewett has proven time and again that we are more than willing to take personal injury and wrongful death cases to trial, with the results being very favorable for our clients. Our track record speaks for itself, as we have obtained numerous top personal injury verdicts in Montana, including 18 jury verdicts surpassing $1 million.
If you or someone you know has suffered damages due to the negligence of another, it is important to contact a trial lawyer who will vigorously represent your interests against insurance companies and other corporate defendants.
Call Hoyt & Blewett PLLC today at (406) 233-1302 or contact us online to schedule your initial consultation.
From their office in Great Falls, Hoyt & Blewett PLLC serves injured clients throughout Montana including Great Falls, Helena, Missoula, Billings, Kalispell, Bozeman, Butte, Anaconda, and Sidney.