Pedestrian Accident Lawyers in Montana
Holding Highly Negligent Drivers Accountable
When crossing the street, many pedestrians take precautions to stay safe. Using crosswalks instead of jaywalking, walking quickly, and avoiding busy streets are just a few things you can do.
Sadly, even the safest pedestrian can be injured by a reckless driver. In cases of pedestrian accidents, the resulting injuries are often severe. Pedestrian accidents are caused by a driver's total disregard for the safety of others.
If you or a loved one were hit by a car, contact Hoyt & Blewett PLLC. Our Montana pedestrian accident lawyers are committed to helping injury victims recover the compensation they deserve.
Send us a message or call (406) 233-1302 to contact our lawyers and schedule a no-cost consultation.
On This Page:
If you are involved in a pedestrian accident, it can be a traumatic experience that may leave you feeling overwhelmed and unsure of what to do next. However, it is important to act quickly and take certain steps to ensure your safety, as well as to protect your legal rights.
Here are some things to do after a pedestrian accident:
Seek Medical Attention: Your health and safety should be your top priority. If you are injured, call 911 or seek medical attention immediately. Even if you feel fine, it is still a good idea to get checked out by a medical professional to ensure that you have not sustained any injuries that may be hidden or delayed.
Gather Information: If you are able to, gather as much information as possible about the accident. This may include the names and contact information of any witnesses, the driver's license plate number, and the driver's insurance information.
Document the Accident: Take pictures of the scene of the accident and any injuries you may have sustained. Keep track of any medical expenses, lost wages, or other damages you have suffered as a result of the accident.
Contact an Attorney: Consider contacting a pedestrian accident attorney who has experience handling pedestrian accident cases. An attorney can advise you on your legal rights and help you navigate the legal process.
File a Police Report: Contact the police to file a report about the accident. The police report will document important information about the accident, such as the time and location of the accident, the names of those involved, and any witness statements.
Notify Your Insurance Company: Contact your auto insurance company to report the accident, even if you were not driving a car at the time. Your insurance company may be able to provide coverage for medical expenses or other damages.
Follow Up on Medical Treatment: Attend all scheduled doctor appointments and follow your doctor's instructions for treatment. This will not only help you recover from your injuries, but will also help document the extent of your injuries and damages for your case.
By taking these steps after a pedestrian accident, you can ensure your safety, protect your legal rights, and potentially receive compensation for any damages you have suffered.
The impact of being hit by a car, in most cases, results in severe injury. Many pedestrian accident victims sustain injuries that are debilitating for an extended period of time or permanently damaging. As a result, a pedestrian accident victim may suffer from other issues like the inability to work or enjoy life, and related mental distress.
The victim of a pedestrian accident may sustain injuries such as:
Bone fractures
Paralysis
Lacerations
In cases of pedestrian accidents, the driver is almost always found liable. There is an expectation that drivers should be aware of any people who may be crossing the road or walking nearby. Hitting a person with a car shows a complete lack of awareness and a high level of negligence.
To prove liability in your pedestrian accident case, witness testimony can be helpful — this may include the accounts of bystanders or information from first responders. If the accident occurred on a busy public street, our legal team may be able to recover footage to use as evidence.
Although drivers are found at fault in the majority of pedestrian accidents, it is possible for the pedestrian to be partially liable if they were behaving negligently. For example, a pedestrian could be found partially responsible for their injuries if they were jaywalking. However, pedestrian liability is uncommon because of the high degree of injury sustained (and the usual absence of injury to the driver).
It is possible for another party — other than the driver or pedestrian — to be found liable in a pedestrian case. In these incidences, elements such as poor road planning or inadequate crosswalks could be too blame. The driver will most likely maintain partial liability, but their fault could be reduced if something other than their negligence was a factor. For example, a street with broken "walk" signals could have directly contributed to the accident. In this case, the city or the people responsible for maintaining the signals could be liable for damages.
The cost of medical care following a pedestrian accident may include expenses from surgery, medication, and medical devices, as well as general doctor visits. To get to and from appointments, pedestrian accident victims will also need to cover the cost of transportation. Additional damages that result from a pedestrian accident may include lost wages and intangible pain and suffering.
The Montana pedestrian accident lawyers of Hoyt & Blewett PLLC can help your family recover compensation for the immense damage caused by the offending driver's negligence. We understand the pain they have caused, and are dedicated to holding them responsible.
If you are interested in speaking with our Montana pedestrian accident attorneys, schedule a free case evaluation through our contact form, or reach out to us via phone at (406) 233-1302.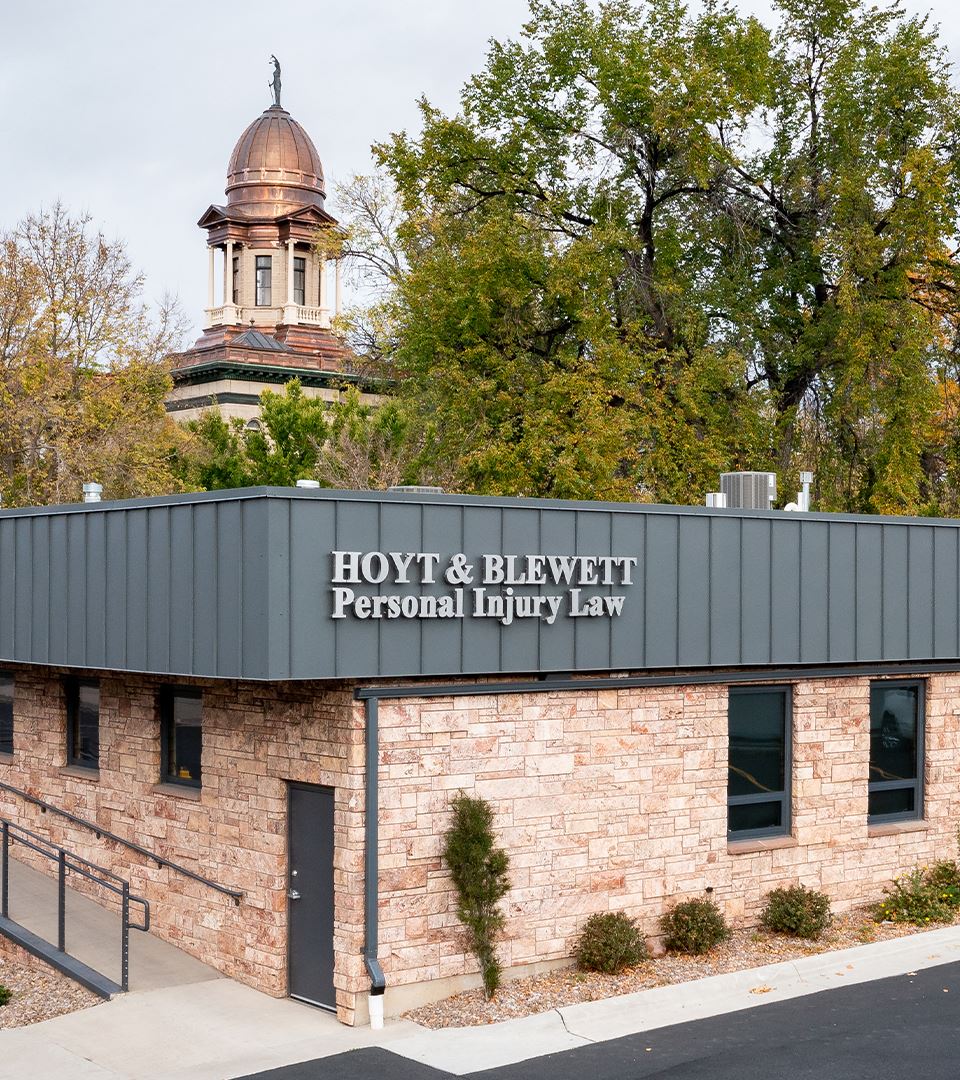 Being involved in a pedestrian accident can be a life-changing event that can leave you with serious injuries and significant financial burdens. If you have been injured in a pedestrian accident, hiring an experienced attorney can provide a number of benefits, including:
Legal Expertise: Pedestrian accident attorneys have specialized knowledge and expertise in the laws and regulations that apply to these types of cases. They can help you navigate the complex legal process and ensure that your rights are protected.
Investigation: An attorney can conduct a thorough investigation of the accident, including gathering evidence, interviewing witnesses, and analyzing police reports. This can help determine who was at fault for the accident and can strengthen your case.
Negotiation: Pedestrian accident attorneys are skilled negotiators who can negotiate with insurance companies on your behalf to ensure that you receive fair compensation for your injuries and other damages.
Court Representation: If your case goes to court, a pedestrian accident attorney can represent you and advocate for your rights in front of a judge and jury.
Maximum Compensation: An attorney can help you pursue the maximum compensation possible for your injuries and damages, including medical expenses, lost wages, pain and suffering, and other expenses related to the accident.
Peace of Mind: Hiring an attorney can provide you with peace of mind during a difficult and stressful time. You can focus on your recovery while your attorney handles the legal aspects of your case.
Get Experience On Your Side
Our Dedicated Attorneys Are Ready to Help
Schedule your free and confidential consultation today.
Ready to Get Started?
Your Voice in the Courtroom
At Hoyt & Blewett PLLC in Montana, we understand the devastating impact of personal injuries and wrongful deaths on families. With over 100 years of combined experience, our dedicated team of Montana injury attorneys is here to provide compassionate and skilled legal representation. We offer a free consultation to discuss your case and understand your needs.
Hoyt & Blewett has proven time and again that we are more than willing to take personal injury and wrongful death cases to trial, with the results being very favorable for our clients. Our track record speaks for itself, as we have obtained numerous top personal injury verdicts in Montana, including 18 jury verdicts surpassing $1 million.
If you or someone you know has suffered damages due to the negligence of another, it is important to contact a trial lawyer who will vigorously represent your interests against insurance companies and other corporate defendants.
Call Hoyt & Blewett PLLC today at (406) 233-1302 or contact us online to schedule your initial consultation.
From their office in Great Falls, Hoyt & Blewett PLLC serves injured clients throughout Montana including Great Falls, Helena, Missoula, Billings, Kalispell, Bozeman, Butte, Anaconda, and Sidney.