Montana Motorcycle Accident Lawyers
Advocating for Victims of Motorcycle Crashes in Great Falls and Beyond
Every year, nearly 5,000 motorcycle riders are killed in crashes, with more than 80% of all motorcycle accidents resulting in an injury or death to one of the occupants. Without airbags and seatbelts, there is little to protect motorcycle riders from serious and catastrophic injuries caused by inattentive drivers of much larger cars and trucks. Even the most cautious motorcycle rider may have difficulty avoiding collisions with drunk drivers and other distracted motorists.
Our Montana motorcycle accident attorneys understand the dynamics of motorcycle collisions and know how vulnerable riders can be when these accidents occur. Combining over three decades of experience representing motorcycle accident victims in Montana, our team at Hoyt & Blewett PLLC is ready to fight for your right to compensation after a crash caused by negligence.
If you have been seriously injured in a motorcycle accident, feel free to call us at (406) 233-1302 for a free case evaluation.
On This Page:
If you are involved in a motorcycle accident in Montana, it is important to take the proper steps to protect your health and legal rights:
Seek Medical Attention: Your health and safety are the top priority. Even if you feel fine, it is important to seek medical attention right away to ensure that you have not sustained any hidden injuries. This is also important for documenting any injuries that may be used as evidence in a personal injury claim.
Call the Police: It is important to call the police immediately after a motorcycle accident. The police will create a report documenting the accident and gather information from witnesses and other parties involved.
Exchange Information: Obtain contact information, insurance information, and driver's license information from all parties involved in the accident. This will be necessary for filing an insurance claim or pursuing legal action.
Take Photos and Videos: Take photos and videos of the scene of the accident, including any damage to vehicles or property, injuries sustained, and any skid marks or debris on the road. This evidence may be used in a personal injury claim.
Contact an Attorney: An experienced motorcycle accident attorney can help you navigate the legal process and ensure that your rights are protected. They can also help you understand the types of compensation you may be entitled to, such as medical expenses, lost wages, and pain and suffering.
Notify Your Insurance Company: Notify your insurance company of the accident as soon as possible. Be honest and accurate when describing the accident, but do not admit fault or discuss the accident with anyone other than your attorney.
Follow Your Doctor's Orders: Follow any treatment plans or recommendations from your doctor to ensure that you recover fully from any injuries sustained in the accident.
From bad weather to defective tires to negligent drivers, there are any number of ways that you may become involved in a life-threatening motorcycle crash. While motorcycle riders can protect themselves by wearing a helmet, keeping their bike maintained, and driving defensively on the road, the reality is that motorcyclists often have very little control over crashes.
According to one pioneering 1981 motorcycle study known as the "Hurt Report," at least 50% of all previous motorcycle accidents had involved alcohol use by car drivers or riders, and over two-thirds of motorcycle car crashes occurred because a driver failed to see the motorcyclist in time. While motorcycle accident deaths and injuries have decreased over the years (largely due to the Hurt Report's findings and the safety advocacy that followed), many experts believe that driver negligence still plays a critical role in motorcycle crashes.
Here are some common causes for motorcycle crashes that may be linked back to negligence:
Aggressive driving behavior and road rage
Failure to use turn signals or merge carefully
Tailgating
Drunk driving or substance use
Faulty or defective vehicles and auto parts
Speeding
Ignoring traffic laws and rules
Injuries from a motorcycle accident can leave riders severely debilitated and disfigured.
Typical injuries reported by riders after a crash can include:
Fire and burn injuries
Scarring and disfigurement
Amputation
Traumatic brain injuries (TBIs)
Organ damage
Severe bone and skull fractures
Crushing injuries
Spinal cord injuries and paralysis
Depending on the nature of the accident and the severity of the injuries involved, a rider may be prevented from returning to work or worse. If the accident was through the fault of a third party, Montana law provides damages for:
Medical Expenses: You may be entitled to compensation for medical expenses, including hospital bills, doctor visits, physical therapy, and prescription medication.
Lost Wages: If you are unable to work as a result of the accident, you may be entitled to compensation for lost wages. This may include future lost wages if you are unable to return to work in the same capacity.
Property Damage: If your motorcycle or other property was damaged in the accident, you may be entitled to compensation for the cost of repairs or replacement.
Pain and Suffering: You may be entitled to compensation for physical pain, emotional distress, and mental anguish caused by the accident and its aftermath.
Emotional Distress: You may be entitled to compensation for emotional distress caused by the accident and its aftermath. This may include anxiety, depression, and post-traumatic stress disorder (PTSD).
Loss of Established Course of Life: If the accident has caused a significant disruption to your daily life, such as an inability to participate in activities you once enjoyed, you may be entitled to compensation for loss of established course of life.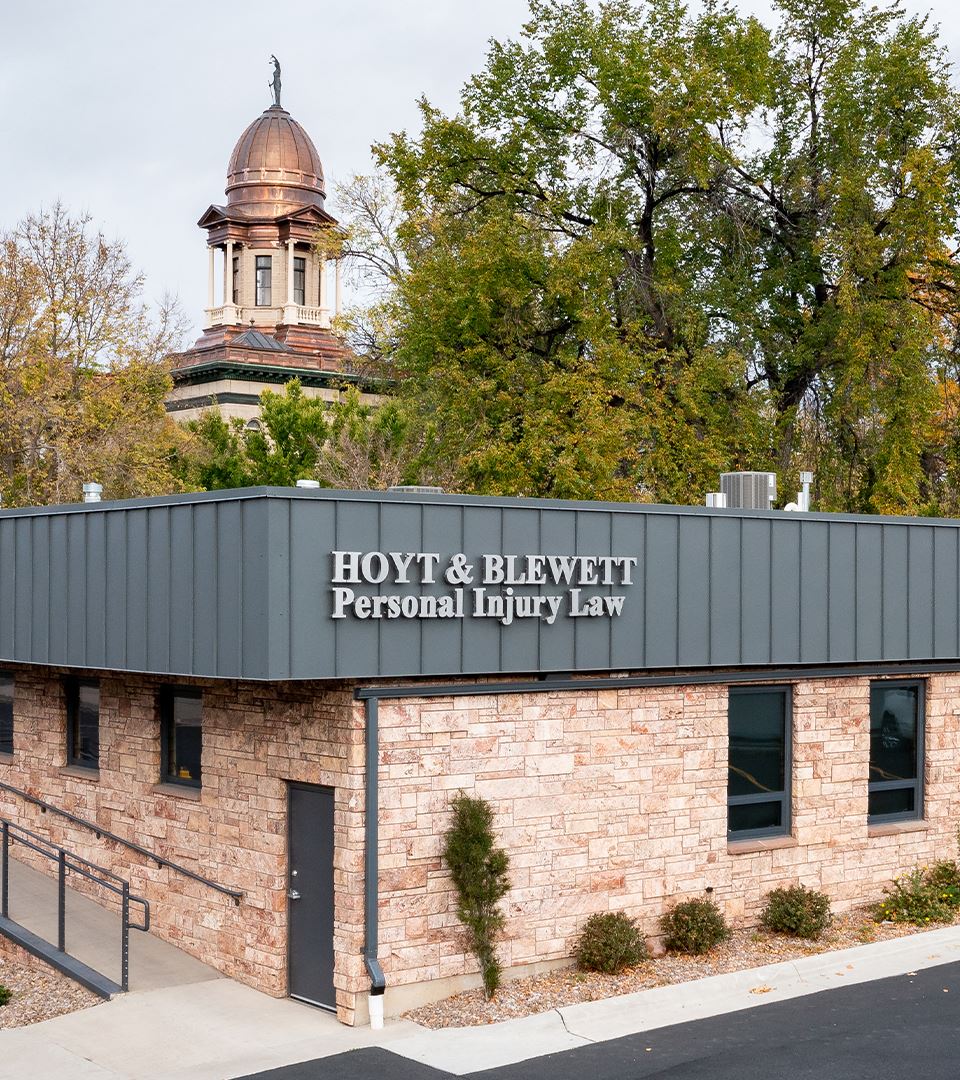 Montana attracts thousands of motorcycle enthusiasts each summer to view the splendor of Montana's open spaces, national parks and wilderness areas. Although Montana law does not mandate helmet use for those operating motorcycles, helmets have been proven to save lives and limit the severity of traumatic brain injuries following motorcycle accidents caused by deer and reckless motorists.
If you have been injured in a motorcycle accident, it is important to obtain a Montana motorcycle accident attorney who has trial experience representing injured people. Insurance companies are far more likely to provide you with fair compensation if they know your lawyer is prepared to take your case to trial. Following your motorcycle crash do not delay in obtaining legal advice on the merits of your case. Our experienced trial attorneys at Hoyt & Blewett PLLC will strongly advocate for you – and seek full compensation from the responsible driver or their insurance company.
Contact us today to receive a free consultation regarding your motorcycle accident. From our office in Great Falls, our attorneys serve clients throughout Montana.
Get Experience On Your Side
Our Dedicated Attorneys Are Ready to Help
Schedule your free and confidential consultation today.
Ready to Get Started?
Your Voice in the Courtroom
At Hoyt & Blewett PLLC in Montana, we understand the devastating impact of personal injuries and wrongful deaths on families. With over 100 years of combined experience, our dedicated team of Montana injury attorneys is here to provide compassionate and skilled legal representation. We offer a free consultation to discuss your case and understand your needs.
Hoyt & Blewett has proven time and again that we are more than willing to take personal injury and wrongful death cases to trial, with the results being very favorable for our clients. Our track record speaks for itself, as we have obtained numerous top personal injury verdicts in Montana, including 18 jury verdicts surpassing $1 million.
If you or someone you know has suffered damages due to the negligence of another, it is important to contact a trial lawyer who will vigorously represent your interests against insurance companies and other corporate defendants.
Call Hoyt & Blewett PLLC today at (406) 233-1302 or contact us online to schedule your initial consultation.
From their office in Great Falls, Hoyt & Blewett PLLC serves injured clients throughout Montana including Great Falls, Helena, Missoula, Billings, Kalispell, Bozeman, Butte, Anaconda, and Sidney.