Montana Workplace Injury Lawyer
Helping Injured Workers Receive the Financial Support They Deserve
Per capita, Montana has one of the highest incidents of workplace injuries in the country. It follows that many Montana workers face dangerous workplace conditions and suffer injuries as a result of these unsafe job sites. Because workers spend much of their lives in the workplace, most are likely to suffer an injury at some point over the course of their careers.
It is important for injured workers to identify all sources of recovery after they are injured in the work place. This includes not only workers compensation claims, but also personal injury tort claims against third parties.
If you or a loved one has been injured in a workplace accident, our team at Hoyt & Blewett can help you understand all your legal options. Call us at (406) 233-1302.
Proven Results for Injured Workers in Montana
The workplace injury lawyers at Hoyt & Blewett PLLC have represented many workers who have suffered injuries in the course of employment or due to the negligence of third parties. In addition to the numerous verdicts we have obtained for injured railroad workers, we have also obtained verdicts for construction workers in the following cases:
Client vs. Oftedal Construction, Inc. ~ $11,000,000.00
Gilchrist v. Cooper Construction, Inc., et al. ~ $1,400,000.00 (Scaffolding fall)
Olson v. Shumaker Trucking ~ $940,296.00 (Front-end loader accident)
Rogers v. Howell ~ $330,000.00
Hoyt & Blewett PLLC is ready to provide the legal representation Montana workers and their families deserve following serious workplace injuries and wrongful death.
We handle injury claims involving a variety of work-related accidents including:
Mining accidents – collapsed tunnel walls
Products liability – defective products and equipment
Environmental hazards – industrial waste, toxic substances, chemical burns
Construction site accidents –scaffolding, ladder and roof falls, electrocutions
Auto accidents – commercial vehicle crashes
Industrial accidents –heavy equipment injuries and repetitive stress injuries
When Workers' Compensation Isn't Enough
Montana has recently reformed its worker's compensation laws which have focused on limiting the benefits paid to workers, rather than improving the safety of the workplace. As a result, workers receive some of the most meager benefits in the country and almost always fail to make the injured workers whole for their losses.
If you've applied for workers' comp through your employer but are still finding it difficult to pay your medical bills, your mortgage, or other expenses, you may be able to pursue further compensation through a third-party liability claim.
What is a Third-Party Liability Claim?
Montana's workers compensation act generally prohibits claims against an employer or fellow employees, however it does not protect third-parties who were responsible for a workers injury.
Common examples of third-party negligence include:
Defective machinery or equipment
Dangerous premises
Work-related motor vehicle accidents
Negligence from a contractor/contractor's employee
Third party claims are different from work comp claims in that they cover a broader extent of damages including emotional distress, pain and suffering, loss of established course of life, and the full amount of the worker's lost wages. Hence, workers can potentially obtain far greater compensation from these claims than under work comp.
Unlike work comp benefits which are provided regardless of who was at fault for your injury, a third party personal injury claim requires the worker to prove that their injuries were caused due to someone else's carelessness. This is why it's so important to contact an experienced workplace accident attorney who can help you prove that negligence occurred.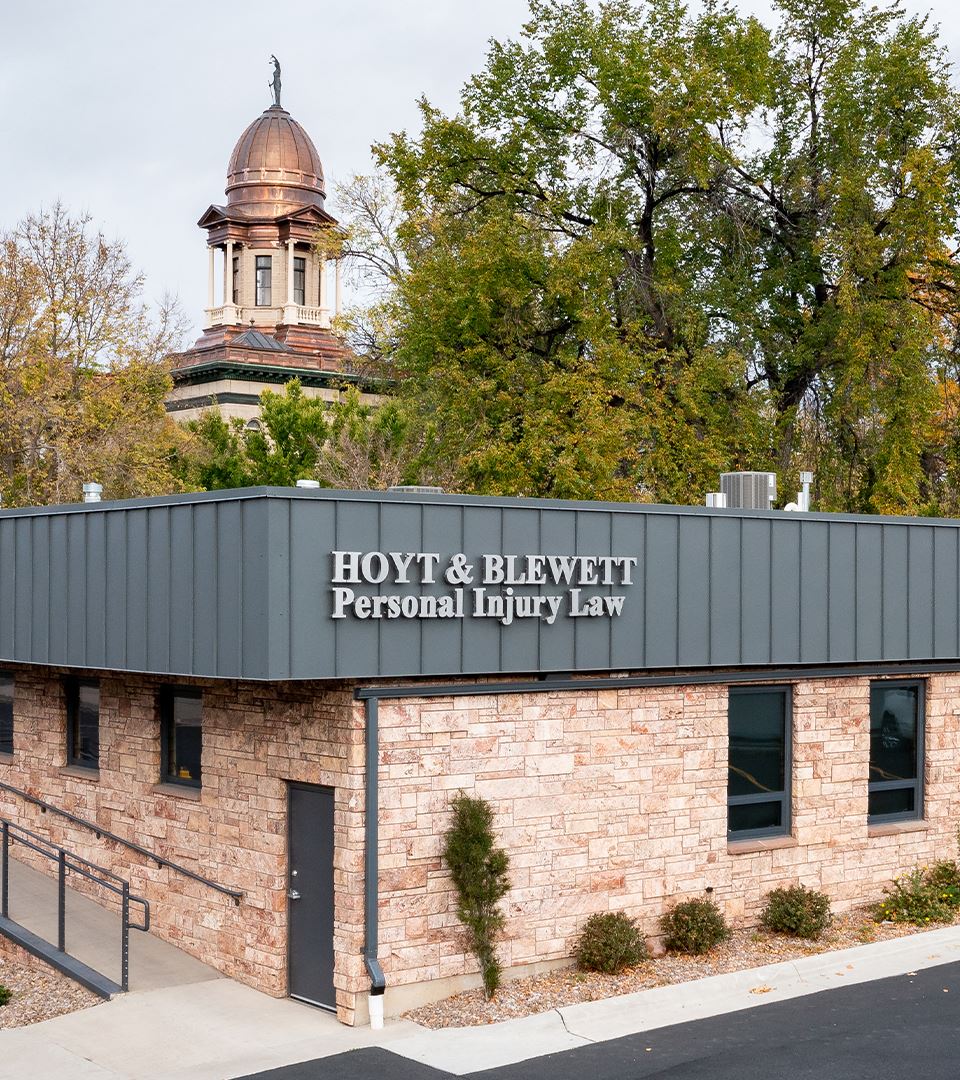 Who is Most at Risk for Workplace Injury?
Males are most likely to suffer a workplace injury in Montana, as well as workers whose jobs include driving, machinery, or other transportation; these account for 49% of reported workplace injuries. Workers most likely to sustain a non-fatal workplace injury include laborers, stock, freight & material movers followed by nursing aides, orderlies, and attendants; construction and oil rig workers; carpenters; heavy transport truck drivers; and light or delivery service truck drivers.
Protect Your Rights by Contacting our Montana Workplace Injury Lawyers
Proving a workplace accident case can be very difficult and before hiring legal counsel you should examine the trial results of your attorney in handling complex civil cases. If you have suffered a workplace accident, contact a Montana workplace injury lawyer at Hoyt & Blewett PLLC to ensure your rights are protected. Our attorneys have vast experience handling workplace accident cases and will diligently investigate your claim to help you identify all sources of recovery and obtain the compensation you deserve.
Call us at (406) 233-1302 for a free case review and assessment of your right to seek additional compensation beyond workers' compensation benefits.
Get Experience On Your Side
Our Dedicated Attorneys Are Ready to Help
Schedule your free and confidential consultation today.
Ready to Get Started?
Your Voice in the Courtroom
At Hoyt & Blewett PLLC in Montana, we understand the devastating impact of personal injuries and wrongful deaths on families. With over 100 years of combined experience, our dedicated team of Montana injury attorneys is here to provide compassionate and skilled legal representation. We offer a free consultation to discuss your case and understand your needs.
Hoyt & Blewett has proven time and again that we are more than willing to take personal injury and wrongful death cases to trial, with the results being very favorable for our clients. Our track record speaks for itself, as we have obtained numerous top personal injury verdicts in Montana, including 18 jury verdicts surpassing $1 million.
If you or someone you know has suffered damages due to the negligence of another, it is important to contact a trial lawyer who will vigorously represent your interests against insurance companies and other corporate defendants.
Call Hoyt & Blewett PLLC today at (406) 233-1302 or contact us online to schedule your initial consultation.
From their office in Great Falls, Hoyt & Blewett PLLC serves injured clients throughout Montana including Great Falls, Helena, Missoula, Billings, Kalispell, Bozeman, Butte, Anaconda, and Sidney.