Distracted Driving Accidents
Great Falls, Montana Distracted Driving Accident Attorneys
Injured by a Distracted Driver? Our Seasoned Auto and Trucking Accident Attorneys Can Help.
Distracted driving has been a problem since the advent of motor vehicles, and now, with a smartphone in everyone's pocket, it has become an ever-present danger on Montana roadways. If you have suffered catastrophic injuries in an auto or trucking accident involving distracted driving, you may be eligible to recover compensation for your losses, or damages.
Why Choose Hoyt & Blewett PLLC?
At Hoyt & Blewett PLLC, our Montana auto and trucking accident lawyers have achieved numerous top personal injury verdicts at the state level, with 18 jury verdicts in excess of $1 million. Not to mention, we have also obtained the largest-ever personal injury settlement in Montana, which totaled a record-setting $27 million. Past results cannot guarantee a favorable resolution to your case, but with our firm, you can rest assured that your interests will be well represented.
Contact us online today to schedule a free consultation. Our Montana distracted driving accident lawyers can also be reached by phone at (406) 233-1302.
Holding Distracted Drivers Accountable
Per Montana law, distracted driving is defined as any activity that a person engages in behind the wheel that takes their attention away from the road and, therefore, increases their chances of getting into an accident.
Hoyt & Blewett PLLC accepts cases involving a wide variety of distracted driving, including but not limited to:
Texting and talking on the phone
Looking at a navigation app or GPS
Eating meals or snacking
Drinking coffee or other non-alcoholic beverages
Drowsiness, stress, and other mental preoccupations
Adjusting climate controls and other vehicle settings
Rowdy or otherwise distracting passengers
Whichever form of distracted driving it was that the at-fault driver engaged in leading up to your accident, you will have to prove it to recover compensation. Our experienced auto and trucking accident attorneys will help you prove your case through accident investigation, accident reconstruction, subpoenas, and more. We will not leave any stone unturned when compiling your case.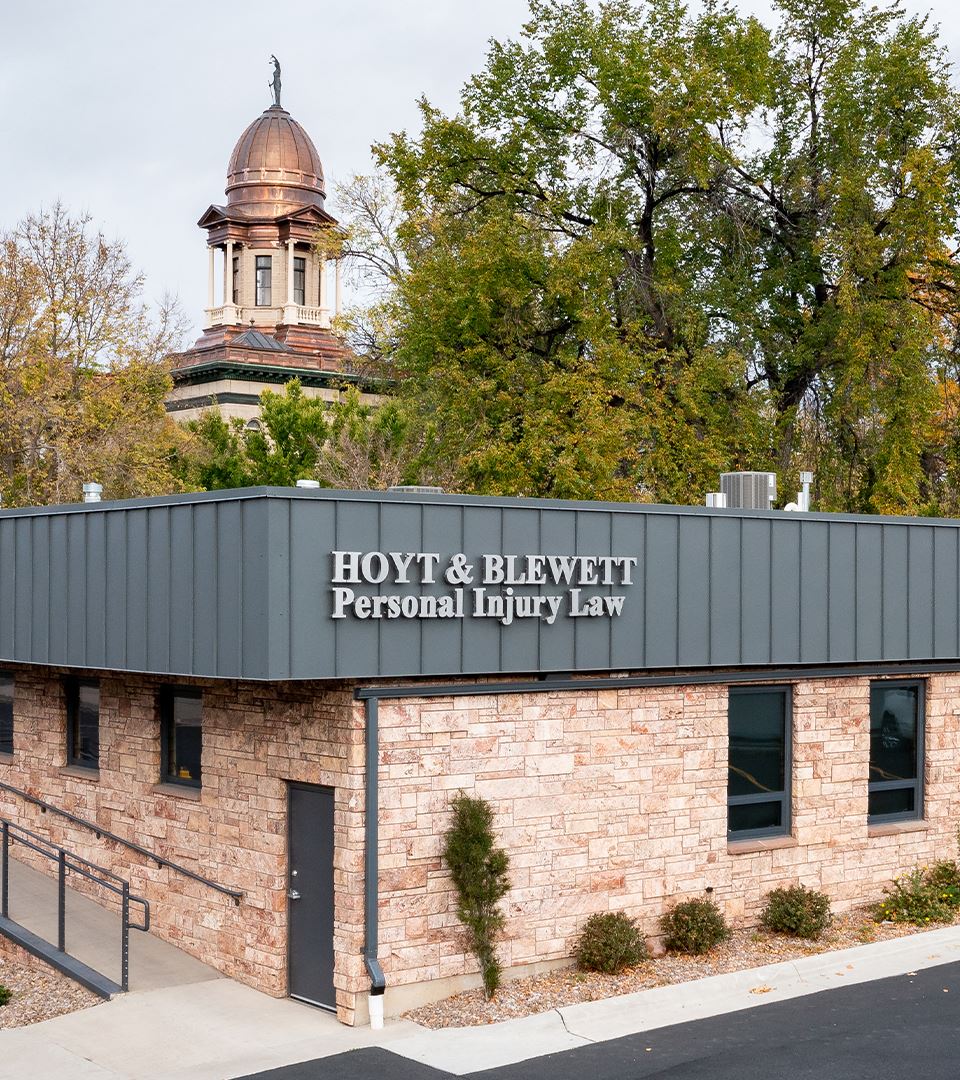 Montana Distracted Driving Laws
Currently, Montana is the only state that does not have statewide legislation prohibiting distracted driving. Several cities and counties have, however, banned texting and driving, as it has proven to be the leading type of distracted driving — and the most dangerous. Great Falls, Bozeman, Helena, Missoula, Billings, and Butte are several of the cities and counties in which drivers are prohibited from texting behind the wheel.
Do not be deterred from taking legal action if the at-fault driver was engaging in another form of distracted driving besides texting. All motorists are legally obligated to drive with care and not endanger others on the road, and the law considers all forms of distracted driving a violation of this obligation due to its dangers. Thus, accident victims may bring forth lawsuits over a vast array of driver distractions.
Protecting the Rights of Injured Montana Residents
At Hoyt & Blewett PLLC, our acclaimed team of auto and trucking accident attorneys shares more than a century of collective legal experience. Under the leadership of managing partner Alexander Blewett, we have become known throughout the state for our dedication to our clients, as well as for our outstanding legal skills and results. In fact, Attorney Blewett is the only lawyer in Montana admitted to The Inner Circle of Advocates, an invitation-only organization comprising the top-100 plaintiff's trial lawyers in the nation. Furthermore, Best Lawyers®, Lawdragon, and the International Society of Barristers, among others, have also recognized members of our legal team.
Don't let a distracted driver shift the blame over to you. Call (406) 233-1302 to speak to our qualified attorneys in a free case review.
Get Experience On Your Side
Our Dedicated Attorneys Are Ready to Help
Schedule your free and confidential consultation today.
Ready to Get Started?
Your Voice in the Courtroom
At Hoyt & Blewett PLLC in Montana, we understand the devastating impact of personal injuries and wrongful deaths on families. With over 100 years of combined experience, our dedicated team of Montana injury attorneys is here to provide compassionate and skilled legal representation. We offer a free consultation to discuss your case and understand your needs.
Hoyt & Blewett has proven time and again that we are more than willing to take personal injury and wrongful death cases to trial, with the results being very favorable for our clients. Our track record speaks for itself, as we have obtained numerous top personal injury verdicts in Montana, including 18 jury verdicts surpassing $1 million.
If you or someone you know has suffered damages due to the negligence of another, it is important to contact a trial lawyer who will vigorously represent your interests against insurance companies and other corporate defendants.
Call Hoyt & Blewett PLLC today at (406) 233-1302 or contact us online to schedule your initial consultation.
From their office in Great Falls, Hoyt & Blewett PLLC serves injured clients throughout Montana including Great Falls, Helena, Missoula, Billings, Kalispell, Bozeman, Butte, Anaconda, and Sidney.