Montana Burn Injury Attorneys
Handling Serious Injuries from Our Office in Great Falls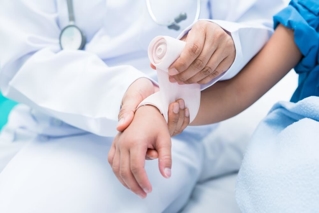 Of all the catastrophic personal injuries, burns can be the most excruciating and painful for the victim. Burn injury victims often have to endure surgery, skin grafts and protracted rehabilitation. Many burn victims are injured in oil rig accidents and other workplace accidents involving explosions, fires, scalding, and electrocution. These burn victims often suffer permanent damage and disfigurement which not only causes excruciating pain, but also results in scarring, nerve damage, and limited mobility.
Montana's economy has benefited tremendously from the Bakken oil boom in eastern Montana. However, many of the oil field jobs that have been created in the Bakken are dangerous and unregulated by federal and state safety officials. As a result of these dangerous conditions, some workers have suffered horrific injuries in the Bakken oil fields. Among the most devastating and catastrophic injuries that can occur in the Bakken Oil Fields are burn injuries. The combination of heavy equipment and an under-regulated work environment creates a high risk of industrial fires and burn injuries by Bakken oil field workers. A Montana man recently obtained a substantial settlement after he received catastrophic burn injuries in an accident in the Bakken oil field.
If you have suffered burn injuries while working in the Bakken Oil Field it is critical that you consult with a Montana burn injury lawyer to determine whether you are entitled to compensation. Many burn injuries will be covered by workers compensation, however, a burn injury victim may also be able to assert an injury claim against a third party as well. Due to the numerous legal entities that operate at most job sites in the Bakken Oil fields, it is possible that another entity may be responsible for paying the damages that are suffered by burn injury victims.
The attorneys at Hoyt & Blewett PLLC have represented burn victims who have been injured in oil rig accidents, auto accidents and by accidents involving defective products. If you or a loved one has suffered a burn injury in Great Falls or anywhere in Montana, a Montana burn injury attorney from the Hoyt & Blewett PLLC Law Firm will work diligently on your behalf to maximize your recovery.
The Hoyt & Blewett PLLC law firm handles burn injury claims on a contingency fee basis, which means you pay no fee unless we obtain compensation for your burn injuries. Please contact us for a free consultation with a Montana burn injury attorney who has experience handling these types of cases.