Montana Truck Accident Attorneys
Experienced Great Falls, Montana Truck Accident Attorneys Representing Injured Clients
Trucking accidents and commercial motor vehicle accidents typically involve buses, semis, construction vehicles, big rigs, 18 wheelers, trailers, and taxis. Because of the heavy equipment involved, even slow impact truck accidents may result in severe injuries.
A few quick statistics about truck accidents:
There were 411,000 police-reported crashes in the United States involving large trucks in 2014.
In 2014, large trucks were involved in 3,744 fatal crashes.
The vast majority of fatal crashes (84 percent) and nonfatal crashes (88 percent) involving large trucks occurred on weekdays (Monday through Friday).
If you have sustained an injury because a truck driver negligently caused an accident, you may be entitled to compensation. At Hoyt & Blewett PLLC, we have successfully represented clients injured in trucking accidents in Great Falls and throughout Montana for over 30 years. We handle truck accident claims that involve negligent truck operators, pedestrians, dangerous road conditions, traffic violations, and defective trucking equipment.
On This Page:
To get reliable help for your truck accident claim, give us a call at (406) 233-1302now.
If a trucking accident lawsuit is required to be filed in the state and federal courts of Montana, our truck accident attorneys consult with highly regarded medical and forensic experts to build our case and maximize your recovery. At trial, these experts testify as to the severity of the injured person's damages, including whether the injuries caused by trucking accidents are permanent and require lifelong medical care. During Montana trucking accident trials, our attorneys use experts for a variety of other purposes including reconstructing the accident and determining whether the truck driver violated federal standards or company policies.
Trucking accidents often cause serious injuries and insurance companies will often employ all means to avoid paying legitimate claims. This forces Montana accident victims to proceed to trial in order to obtain fair compensation. Our trial lawyers at Hoyt & Blewett PLLC have a record of taking auto and truck accidents claims to court and obtaining jury verdicts for injured people in Montana.
Just one example of a great case result we obtained:
In the Messick/Bowman Case, our firm obtained a $2.5 million verdict against the employer of a truck driver whose negligence caused the deaths and serious injuries of our clients in a trucking accident near Livingston, Montana. The insurance company refused to accept responsibility or pay any compensation, which required our firm to file a wrongful death lawsuit in Butte, Montana Federal Court. At trial, we were able to prove to the Butte jury that the truck driver negligently failed to signal and was responsible for causing the deaths and serious injuries of our clients who were passengers in a vehicle which attempted to pass the truck. The Butte wrongful death verdict was unanimously affirmed by the 9th Circuit Court of Appeals.
Many Montana trucking accidents would be preventable if truck drivers and their employers complied with industry safety standards and guidelines. When truck drivers violate the law and breach their duties to Montana drivers, our attorneys of Hoyt & Blewett PLLC can be there to utilize our vast experience in Montana law to hold truck drivers and their employers responsible for causing injuries.
We frequently handle truck accident claims caused by:
Distracted driving
Driver fatigue
Truck rollovers
Driving under the influence of alcohol or drugs
Unsafe driving conditions, including fog, rain, and snow
Unlicensed drivers
Negligent hiring of truck drivers
Failure to train
Inadequate truck maintenance
Oversized trucks
Overloaded trucks
Defective equipment
Traffic violations
Perhaps the most prominent problem that leads to trucking accidents in Montana is truck driver fatigue. Trucking companies are legally permitted to push their truck drivers to extreme lengths each shift. It is not uncommon for a trucker to have to work 14 hours in a day, with 11 of those hours spent driving. Unsurprisingly, a trucker who has been on the road for that long becomes fatigued, increasing the chance of a serious truck accident.
Exhaustion behind the wheel is known to cause:
Reduced reaction times
Worsened vision
General confusion
Loss of motor control
The logging industry is large in Montana, which means logging trucks are on the road most of the time in all corners of the state. If you see a logging truck on the highway, then you should do your best to stay away from it. Logging truckers are subjected to the same long hours as other commercial truckers in the state, meaning they are likely exhausted while driving.
To make matters worse, logging trucks carry immense amounts of cargo. The increased weight of their cargo makes the truck harder to control and take longer to come to a complete stop. There is also the added issue of logging freight coming loose while in transit, which could throw enormous logs and trees onto the road behind the vehicle.
If it is not a logging truck that causes a truck accident on the highways of Montana, then it is probably a semi-truck or commercial truck instead. Trucks are the favorite way for companies and corporations to move product, equipment, and materials. As such, the highways are often full of commercial trucks.
The harsh climate of many parts of Montana make for dangerous roads and driving conditions year-round. Inexperienced truck drivers may struggle to control their vehicles when it is snowing, raining, hailing, or foggy. A storm may even blow debris like tree branches onto the road, causing a trucker to swerve and lose control of their truck.
While road conditions can certainly be problematic, it is important to realize that truckers always have the responsibility to navigate them carefully. If you are hit by a commercial or logging truck during inclement weather, you can still file a claim against that trucking company. They may try to discourage you by blaming the weather. Be persistent by gaining the representation of our Montana truck accident attorneys.
Another complex occurrence in truck accidents is when a defective truck part is the root of the accident. Brakes and tires are prone to failure without proper maintenance. If a truck part defect cases your truck accident, what party is liable for your damages?
The answer could vary, depending on the circumstances:
Trucker who failed to maintain their vehicle
Truck part manufacturer who sold a defective part
Maintenance crews who did inadequate maintenance to the vehicle
Trucking company who did not allot time for vehicle maintenance
Our attorneys can thoroughly investigate the situation to determine who has been negligent and contributed to your trucking accident caused by a part defect. It is entirely possible that multiple parties will need to be named liable in your claim.
Call (406) 233-1302 today to get started.
Truck drivers are primarily liable for their actions behind the wheel and will be held at fault in most truck accident cases. However, their employers often share a substantial portion of liability in truck accident cases as well. Trucking companies are responsible for hiring qualified drivers, monitoring safety, completing maintenance checks, keeping records, and other duties that are essential to a safe trucking operation.
A third party could also be liable in a truck accident case. This may include vehicle manufacturers, mechanics, safety inspectors, road maintenance workers, and others.
Trucking companies are required by law to maintain extensive records of maintenance, safety, and other parts of their business. These documents can provide significant evidence in a truck accident case. The input of expert witnesses such as mechanics, financial experts, and accident reconstructionist experts can also be very helpful.
Evidence that can be used in truck accidents may include:
Maintenance records
Hours of service records
Trip logs
Black box data
Truck weight documents
Hiring documents
Traffic tickets
Video surveillance
Medical bills
Photographs
Witness testimony
An injury victim could be partially at fault for a truck accident if they were driving recklessly or doing something else unsafe that contributed to the collision.
In the state of Montana, the negligence laws follow the principle of comparative fault. If an injury victim is partially at fault for an accident, their compensation could be reduced according to their degree of liability. For example, a person who is determined to be 20% at fault for an accident could have a $100,000 award reduced to $80,000. Montana bars people who are 51% or more at fault for their injuries from recovering compensation.
Truck accidents are often significantly more damaging than car accidents. The size difference between the two vehicles alone can result in more severe injuries and a greater financial and emotional impact following an injury.
Truck accidents involve multiple at-fault parties while car accidents often involve only the two drivers. The involvement of the trucking company in many collision cases also uncovers more expansive evidence than a typical car accident — victims in truck accident cases may be able to access the trucking company's records as proof of negligence in their case.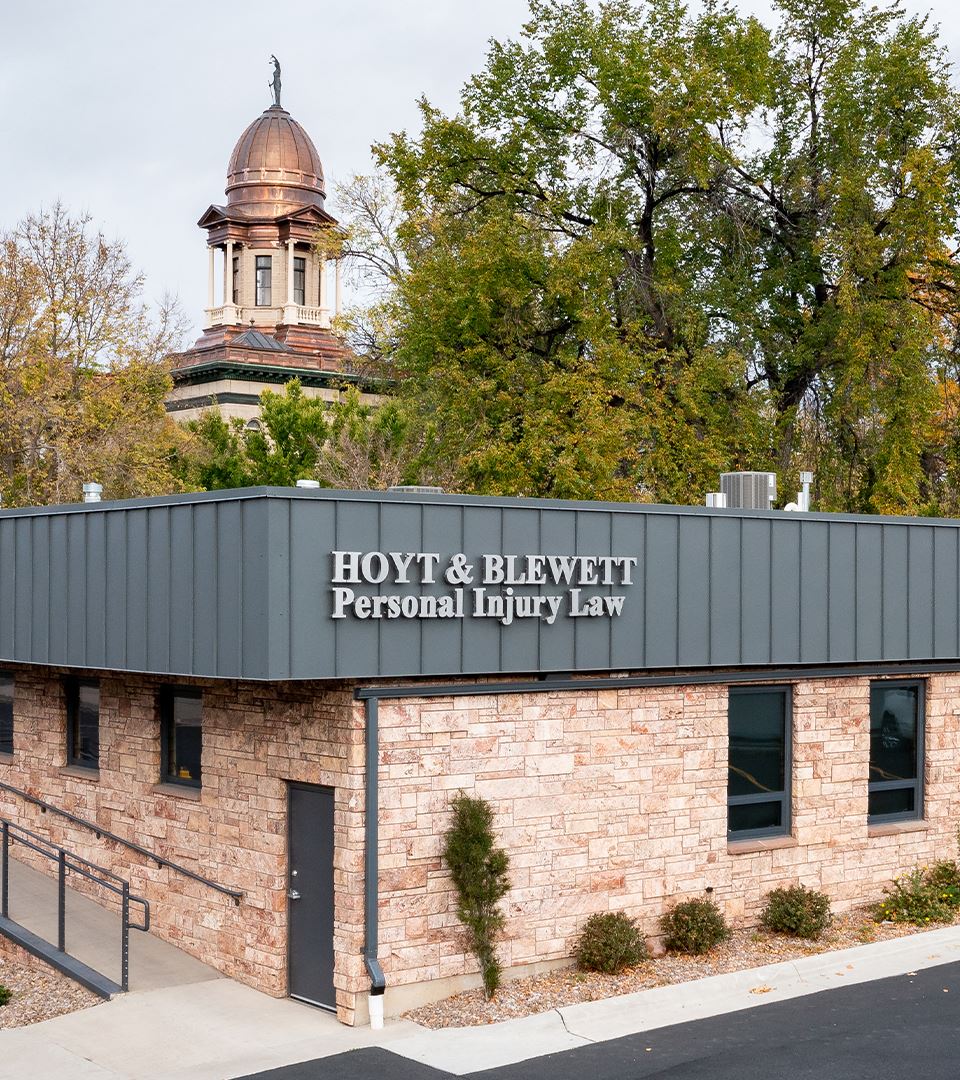 Did you get hit by a commercial truck? You have to be aware that they are likely backed by a major corporation that will use as much resources as possible to deny your injury claim. Prepare yourself for the legal battle ahead by teaming up with Hoyt & Blewett PLLC and our Montana commercial truck accident lawyers. Our experience and knowledgeability can balance the legal playing field so you can confidently seek all your deserved damages.
Damages you may be able to collect after being hurt in a truck accident:
Medical care
Rehabilitative care
Lost wages
Pain and suffering
Contact the Montana Personal Injury Firm of Hoyt & Blewett PLLC
We handle trucking accident claims on a contingent fee basis, which means you owe no attorney's fees unless we obtain a judgment or settlement of your injury case. If you have been injured in a trucking accident, call Hoyt & Blewett PLLC at (406) 233-1302or contact us online to schedule your free consultation.
Our Montana truck accident lawyers at Hoyt & Blewett PLLC, with more than 30 years of experience, have a wealth of experience and expertise in pursuing trucking accident claims. Our law firm, based in Great Falls and serving all areas of Montana, including Helena, Butte, Anaconda, the Bakken Oil Field, Billings, Bozeman, and Kalispell, has produced demonstrable results in a large number of personal injury cases.
Our lawyers are ready to take your call. If you or someone you know is the victim of a trucking accident in Montana, don't hesitate to contact one of our Montana truck accident attorneys for a free case evaluation.
Get Experience On Your Side
Our Dedicated Attorneys Are Ready to Help
Schedule your free and confidential consultation today.
Ready to Get Started?
Your Voice in the Courtroom
At Hoyt & Blewett PLLC in Montana, we understand the devastating impact of personal injuries and wrongful deaths on families. With over 100 years of combined experience, our dedicated team of Montana injury attorneys is here to provide compassionate and skilled legal representation. We offer a free consultation to discuss your case and understand your needs.
Hoyt & Blewett has proven time and again that we are more than willing to take personal injury and wrongful death cases to trial, with the results being very favorable for our clients. Our track record speaks for itself, as we have obtained numerous top personal injury verdicts in Montana, including 18 jury verdicts surpassing $1 million.
If you or someone you know has suffered damages due to the negligence of another, it is important to contact a trial lawyer who will vigorously represent your interests against insurance companies and other corporate defendants.
Call Hoyt & Blewett PLLC today at (406) 233-1302 or contact us online to schedule your initial consultation.
From their office in Great Falls, Hoyt & Blewett PLLC serves injured clients throughout Montana including Great Falls, Helena, Missoula, Billings, Kalispell, Bozeman, Butte, Anaconda, and Sidney.